Swati Shah GRI, Realtor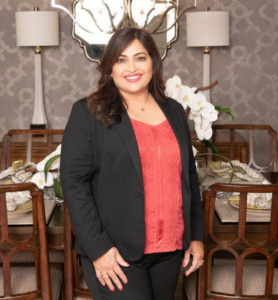 A top producer at Keller Williams Realty, Frisco Stars
D Magazine Top Producer 2018
When Swati Shah moved to Texas from India in 1991, it took her awhile to
get used to her new home.
Home Buyer (relocated from West Texas) "It's a completely different
lifestyle from India," she says. Now a top producer at Keller Williams Frisco,
Swati draws on her experience as a Texas transplant to support clients
relocating to the area, and, having lived in Plano for over 25 years, she
knows everything there is to know about the Collin County real estate
market. She is especially knowledgeable about Plano, Frisco, Allen,
McKinney and Prosper.
Swati has extensive experience in residential real estate, as well as
commercial real estate and she also works with investors.
People first
Swati's key to success has been putting clients first. "I'm always available to my clients; when they call
they hear my voice," says Swati who admits she works all hours of the day and night, including
weekends.
When she first starts working with a client, her top priority is understanding their needs. "Clients often
have very specific requirements and my goal is to meet every one of them. It's important not to rush
people to make a decision," Swati says. "My role is to educate, provide the best possible options and be
available to walk them through the process."
Buying
In order to meet her clients' needs, Swati tours with her clients through different neighborhoods and
homes, continually refining their home search until they find the perfect property.
"Many people choose Plano for the schools, but in Plano most of the homes are older," says Swati.
"Frisco is a great option for people looking for a new build. Currently many people are looking at Prosper;
it has a nice countryside feel but has convenient access to the North Dallas Tollway, good schools and
many people find the lower price point more accessible."
"It's a seller's market," she says. "Buyers will often be in a bidding war. I have been in this situation many
times and have the experience and knowledge needed to be successful."
Selling homes
When it comes to selling a home, Swati does everything.
"To start with I preview the home on my own so I can view it through the eyes of a buyer," she says. "I'll
then sit down and discuss my observations with the homeowner and suggest fixes to get the best
possible price. Sometimes the solution is simple: new paint or light fixtures and decluttering. Often, clients
can't see what needs to be done because it's their home and they see these things every day."
Next, Swati brings in homestagers and gets professional photos and a video tour made. "The right photos
are so important, nowadays everyone looks online and you only have seconds to make a good
impression," she says.
Then, Swati and her team take care of all the marketing, including hosting open houses. And finally,
Swati takes the lead on all negotiations and support in the after-sale process.


My wife and I worked with Swati to build a second home in Dallas area while I was still working in
Midland. We heard about her through a friend. We were in Paris for a wedding and I emailed her to see if
she could show us some houses during our six hour layover in Dallas. She picked us up from the airport
and showed us three very desirable locations, one of which we loved and picked! During the building and
selection phase she was always by our side, listened to our desires and gave us wonderful and amazing
ideas which also helped us in building a lovely Pooja/Satsang room which we enjoy thoroughly! She is
knowledgeable, approachable, personable, endlessly patient and incredibly generous with her time
(including early mornings, evenings and weekends over the course of several months).
We were so happy with her that after moving to Plano in 2015, we bought two rental properties through
her and within two weeks of closing she was able to find good tenants for us.
— Bal Khandelwal, Buyer and Investor
Swati was very helpful from the beginning right through to after our move to out-of-state. She provided all
information needed, including time-line, real estate market analysis in the area and how to prepare the
home for selling. She offered us the option of having the house staged with furniture and decor. With that
option the listing photos came out really awesome. This was the best part of selling the home in that
market. During the very first week of home showings we had an offer that was close to the list price. After
consultation with Swati we decided to accept the offer. She diligently worked with the buyer's real estate
agent and made the entire sale a breeze. She was just a phone call away for any questions right from the
time we accepted the offer to the closing date and after.
— Sunil Andhole, Home Seller
Swati is a true professional. She kept tabs on our comments for each house, previewed new
listings for us, FaceTimed with us (as we did not live in the area) and pointed out the positive
and negative points on each property. She never pressured us at all. Her after-sales help
was also incredible.
—Dr Nalin Tolia, Home Buyer (relocated from West Texas)
Swati Shah GRI, Realtor
Keller Williams Realty, Frisco Stars
214-923-0563
www.swatishahrealty.com
shahswati1@gmail.com